In my first series of posts on people in unique missions niches, I talked about MMS Aviation, an Organization who maintains and prepares aircraft for missionary service. Today I'm writing from a more personal experience with another great mission niche. My wife Susan works in Europe as a teacher at Black Forest Academy. She loves the amazing opportunity that she has been blessed with by being a part of this school.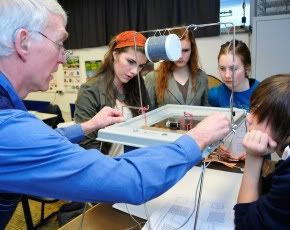 If you want to meet an awesome group of kids, teaching TCK's (Third Culture Kids) is a unique opportunity. Nestled in the southwestern corner of Germany is the Black Forest Academy. The students come from all over the world. Most are TCK's whose parents are vocational Christian workers. The staff also comes from all over, to serve and minister to these students. Susan is a teacher at this school and loves the unique ministry and education here. She doesn't merely teach, but also builds relationships with kids who are learning about education, life, and faith all together. Susan is a mom of two TCK's so she knows the unique needs they have and the critical growth during these teenage years. It is a comfort for the parents of these students to know that the staff is doing their best to provide academic, emotional and spiritual support to their child. When a parent working overseas can have faith in the school they have sent their son or daughter to, it helps them focus more readily on the task God has prepared for them in their host country.
Teaching TCK's is not something you may think of when it comes to being involved in missions, but Susan knows that God is using her in ways that make a difference. If you are interested in seeing how God could use you as a teacher at BFA, click here to read more!